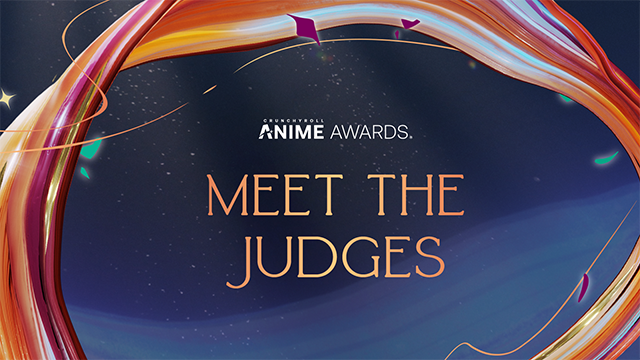 The Anime Awards are returning for their seventh year in Tokyo on March 4, and, as the year nears its end, it's time to meet the judges in charge of selecting nominees!

RELATED: The 2023 Crunchyroll Anime Awards: Your Ultimate Guide

Every year, the judges are essential to the Anime Awards—their votes independently determine the list of nominees for each category. The judges represent a diverse selection of anime fans who bring their own unique taste and perspective to ensure that the widest selection of anime is represented. Without further ado, let's take a look at the panel!


Christoph Alge
Anime Connoisseur

Christoph is an exemplary geek. Whether it's games, events, or anime, he's ready to discuss. Every quarter he watches at least five to ten new shows in search of that season's smash hit.

Helder Archer
Founder, OtakuPT

In 2007, Helder Archer founded OtakuPT, the biggest anime website in Portugal. Since then, he has written over 40,000 articles about anime, manga, and videogames.

Matheus Bianezzi
News Writer, IGN Brasil & Animes Overdrive

Matheus is a news writer at IGN Brazil and one of the owners of the podcast Animes Overdrive, a weekly podcast dedicated to anime and manga.

Capitán Urías
Manga Historian & Anime Lover

The author of several books about manga and its history, Capitán Urías is all about spreading appreciation both for manga and anime. He's a content advisor for Manga Barcelona and the founder of Espai Daruma, a website dedicated not only to teaching the Japanese language to Spanish speakers, but all things Japanese including history, music, and business.

cavernadiplatone
A Writer of Manga & A Devourer of Anime

cavernadiplatone was the first person to cover and review anime and manga in Italy on YouTube in 2007. He also collaborates with Italian home video publishers and distributors (Yamato Video, Koch Media, Plaion) and works with comic book publishers. If that weren't enough, he's also a Manga writer (Ex-Tract, Arkai-On).

Isaiah Colbert
Otaku of Kotaku

Isaiah writes things about gaming and anime and puts them on sites like GameSpot, Sugar Gamers, and Kotaku.

Alejo N. Correa
Editor & AV Manager, Ramen Para Dos

Alejo is the editor and audiovisual manager for Ramen Para Dos (Ramen for Two) a site dedicated to anime news. He's loved anime from a young age, which has led him to cover events, be in contact with industry members, and offer his vision of what anime is all about.

Clément Cusseau
Author & Journalist, AlloCiné

A journalist for AlloCiné since 2011, Clément Cusseau has been passionate about Japanese culture since childhood. He was nourished by the Club Dorothée series and by reading manga. In 2020, he made his dream come true by publishing a book in French about the history of anime entitled Japanime.

Dion Dassanayake
Gaming, Tech, and Anime Reporter

A journalist with over 10 years of experience on UK national newspaper websites, Dion fell in love with anime back in the 90s after watching old school gems like Akira, 3×3 Eyes, and Dominion Tank Police, and has adored the medium ever since.

Anne Delseit
Editor, AnimaniA

Since 2013 Anne Delseit has been part of the editorial team of AnimaniA, a bi-monthly magazine available in Germany, Austria, and Switzerland that was started in 1994 and covers anime, manga, games and Japanese pop culture.

Clémence Duneau
Journalist, Vice France

Clémence is a journalist specializing in web culture, video games and manga for Vice France. She has worked for the Pixels department of Le Monde, one of the biggest French media companies, and is also a member of La 5e de Couv', a weekly podcast about manga. In her spare time, she's a streamer.

Toussaint Egan
Associate Curation Editor, Polygon

Toussaint has written about anime for over eight years on sites like Paste, Complex, IGN, Vulture, and Polygon—where he currently serves as an associate curation editor. Some of his favorite anime are 2003's Kino's Journey, Ghost in the Shell: Stand Alone Complex, and The Big O.

Clayton Ferreira
TV & YouTube Host

Besides considering himself a JRPG sommelier, Clayton has talked about anime on television for over ten years on TV Bandeirantes, is also one of the hosts of the YouTube channel Mais Geek, and is currently spreading the good word about anime on 89 FM.

Fonzy
Senior Manager & Editor In Chief, Honey's Anime

Fonzy is an anime veteran fan who has also worked in the industry with anime staff and actors for 10 years and going. He does various high-priority jobs at Honey's Anime and is passionate about spreading the awesomeness that is anime to the world!

Ryota Fujitsu
Anime Critic

Apart from writing about anime for a variety of major Japanese publications since 2000, Ryota Fujitsu is a part-time lecturer at Tokyo Polytechnic University's Department of Animation. Not only that, he's also made appearances on Japanese TV and radio to discuss anime.

Tristan "Arkada" Gallant
Youtuber & Anime Reviewer

Tristan "Arkada" Gallant is a Canadian YouTuber known for reviewing anime on his series Glass Reflection since early 2009. With a variety of red outfits and overly enthusiastic expressions, he has displayed his passion for anime from the start, gaining over 500K subscribers. Besides anime series, he's also covered related topics like anime legality and industry support.

Pri Ganiko
Content Team, Jovem Nerd

Pri Ganiko joined the Jovem Nerd content team in 2017, discussing anime and other pop culture subjects on the NerdBunker social media news site. She's also a member of the Lá do Bunker podcast, and host at the video unboxing project DesenKaixa.

Fabio Garcia
Blogger & Writer

Fabio has written professionally about anime and manga for almost 15 years, leaving his mark on magazines such as Anime Do and Neo Tokyo, as well as websites like UOL and Omelete. When he's not working, he maintains a popular blog Mais de Oito Mil (More Than 8,000) which covers anime, manga, and Japanese culture.

Gerald
Host, Anime World Order Podcast & Writer, Otaku USA

Gerald is a long-time anime fan who not only writes for Otaku USA, he's also a host on Anime World Order Podcast, the longest running anime-only podcast on the internet.

Palmer Haasch
Entertainment Reporter, Insider

Palmer Haasch is an entertainment and culture reporter based out of New York. Besides anime, she also covers television, celebrities, internet culture, and K-Pop. Her writing has appeared on Polygon, The Verge, IGN, GLAAD, and Insider, where she currently works.

Kwok-Wai Hanson
Anime Host, Editor, and Content Creator

Kwok-Wai Hanson is a host, editor, and content creator in the anime industry. He's been involved with several live events like Anime Expo, and is also involved in various cross-promotion and collaboration partnerships with publishers throughout Japan.

Damien Hilaire
Writer, IGN France & Anime News Network

Damien is a writer for IGN France and Anime News Network who has also collaborated with Animeland for the encyclopedia of Japanese animation. Chronicler of the Twitch show Le Cri du Mochi, a weekly anime and manga news show.

Karama Horne
Podcaster, Host, and Critic

Karama Horne (@theblerdgurl) is a culture journalist, podcaster, host, and critic parked at the intersection of geekdom and diversity. She has bylines at Marvel.com, Rotten Tomatoes, NERDIST, Mashable, SYFYWIRE and The Wrap. She is also the author of Black Panther: Protectors of Wakanda.

Rafael Jiback
Manager, JBox

Rafael Jiback is the manager of JBox, a website dedicated to spreading Japanese pop culture in Brazil for over 18 years. He joined the team as a collaborator in the website's early years, working in the editorial, newsroom, and audiovisual departments.

Roland Kelts
Author, JAPANAMERICA

Roland is an author, journalist, and public speaker with 20 years' experience covering the anime industry in Japan and the US. His first book, Japanamerica: How Japanese Pop Culture has Invaded the US, is considered the ultimate guide to Japan's pop culture juggernaut. His latest book is The Art of Blade Runner: Black Lotus, and he is currently a visiting professor at Waseda University in Tokyo.

Ryo Koarai
Anime Information Supervisor, Commentator, and Columnist

Ryo Koarai researches and reviews anime from an academic point of view, having watched over 100 different anime each week for the last ten years. When she's not working on her doctoral degree at Hokkaido University Graduate School of International Media, communication, and Tourism, Ryo writes columns for Mantan Web, Yahoo!, and is involved with TV production as an anime information supervisor and commentator.

Jérôme Lachasse
Journalist, BFMTV

Jérôme covers manga and anime for the French news site BFMTV.com.

Diego Lima
Editor, The Enemy/Omelete

Diego Lima has been an entertainment news writer since 2017, and joined Omelete, Brazil's first geek culture website, in 2021. Since his first days in the industry, he has covered games, manga, and anime on a weekly basis—which he has done for the last 5 years.

Lynzee Loveridge
Executive Editor, Anime News Network

Lynzee Loveridge has the unique position of knowing what's tracking with anime critics and viewers. She not only writes reviews each season but also reads everything from ANN's editorial staff! Outside of work, she's just a magical girl living in a Junji Ito world.

Mike Mamon
Anime Content Producer, IGN

Mike Mamon is a Syndication and Digital Specialist at IGN. In addition to managing video channels, he's helped IGN cover anime for quite some time, and co-hosted their only anime podcast for years.


Marta-GiapCult
Anime & Manga Content Creator

For Marta-GiapCult, anime started as a simple passion, then became a full time job. When she's not creating anime or manga content, she loves attending events—and to think, it all started from a meme page.

Martina-GiapCult
Content Creator, Instagram & Twitch

What started for Martina as a simple passion has turned into a full-time job as a content creator on Instagram and Twitch. She is a big fan of anime and manga, loves the community, and still can't believe her career began just by making simple memes.

Miki
Podcaster, AnimeSlam & Rolling Sushi Anime News

Miki runs both the AnimeSlam podcast, a bi-weekly talk show about various anime and manga topics that started in 2014, and the Rolling Sushi Anime News podcast, a weekly report about news from the anime industry.

Moo
Voice Actress, Singer, Cosplayer, Content Producer

Moo is an anime quadruple threat. She's a voice actress, singer, cosplayer and content producer. When she's not producing content for Bentô, Omelete's Japanese pop culture YouTube channel, she's lending her voice to characters such as Ayako Yamada in Kageki Shojo and Mine Kuramae in Fruits Basket.

Rafael Motamayor
Writer, SlashFilm & IGN

Rafael Motamayor is a critic and reporter based in Norway, writing and speaking on movies, TV shows—and of course anime—for SlashFilm, IGN, IndieWire, and others. He thinks the original Fullmetal Alchemist is better than the remake, and that there's not enough time to watch all the good shows.

Toan Nguyen
Founder, Jung von Matt NERD

Toan is the founder JvM NERD: Europe's very first marketing agency for gaming, anime, sci-fi, superhero, and fandom culture. In doing so, he has delivered innovative creations like the 'Super Mario x Haribo' edition or the 'MINI x Pokémon' car collab. Most recently, his team helped on the launch of the film One Piece Film: Red.


James Perkins
Lead Anime Writer for Starburst Magazine

James Perkins is the Lead Anime Writer for the UK-based publication STARBURST MAGAZINE. He has also been a freelance journalist for sites such as HeyUGuys, The Digital Fix and CBR. James lives and breathes anime and his favorite show of all time is Death Note.

Sven Raabe
Writer, GamePro, PLAY3.DE, PlayCentral

Sven is a freelance writer who covers gaming, pop culture, and of course all things anime and manga for German websites like GamePro, PLAY3.DE, and PlayCentral.

RocketsSnorlax
Walking Anime Encyclopedia from Germany

RocketsSnorlax has been an anime fan and nerd since the era of VHS tapes. He is one of the driving forces behind the database project aniSearch.de, an extensive database of anime, manga, and Asian films and TV series. He's also the proud owner of a multi-language Blu-ray collection of anime.

Daniel Rodríguez Carranza
Editor in Chief, Otaku Bunka

A journalist who specializes in manga, anime, and Japanese culture, Daniel is also the editor in chief of the magazine Otaku Bunka and frequently collaborates with Panini Manga publishing. He has also participated in numerous projects throughout his career that help spread appreciation for all aspects of Japanese culture.

Dewang Ruke
Co-Founder, Animehunch

Dewang helped start Animehunch in 2020 with three friends in India who were equally as passionate about anime and manga. This website seeks to bring the latest news and updates from anime and manga, as well as opinions and theories on the hottest topics in the fandom.

Hussain Ali Sahlan
CEO, AnimeTherapy

Hussain Ali Sahlan or "Hussain Bin Sahlan" is the CEO of the biggest anime news network in the MENA region, Anime Therapy. He also worked on popular Arabic animation titles like The Journey and Future's Folktales which have appeared on several popular streaming services.

Kate Sánchez
Co-Founder, But Why Tho? & Critic

Kate Sánchez is the Founder and Editor-in-Chief of But Why Tho? A Geek Community, an entertainment outlet dedicated to uplifting marginalized voices. There, she coordinates film, television, anime, and manga. Kate is also a freelance journalist, with bylines at Polygon, Paste, Fangoria, and more.

Rayan Sayyed
Journalist, IGN India

Rayan has covered anime for the Indian arm of IGN.com, having interviewed industry personalities, provided exclusive coverage, and reported on the latest news to satisfy both the rapidly growing anime fanbase in India and abroad.

Kaho Shibuya
Author, Cosplayer, Streamer, Anison DJ

Kaho has been a guest so frequently at international anime conventions—not to mention anime podcasts and YouTube shows—they now consider her a regular. She's also a DJ with a deep anime playlist and is excited to return for her 3rd year as a judge in The Crunchyroll Anime Awards.

Eugene Sowah
Game, Film, and Anime Journalist

Eugene is a journalist at The Mirror, who writes about video games, anime, and films.

Tadashi Sudo
Journalist & Founder, Anime! Anime! and Anime! Anime! Biz

Tadashi Sudo is a journalist covering Japanese animation. He's also the founder and ex-chief of Anime! Anime! and Anime! Anime! Biz, an online magazine covering the latest news, reviews, interviews, and featured articles in the anime industry.

Daryl Surat
Writer & Podcast Co-Host/Producer

A contributing writer to Otaku USA Magazine since its inception 15 years ago, Daryl is also co-host and producer of the Anime World Order podcast, which he claims is the oldest among the currently active anime/manga-specific podcasts. He wants you to know he has nominated all of your favorites.

Tamoor
Managing Editor, Gamespot & Creative Director, Giant Bomb

Tamoor Hussain is the managing editor of GameSpot and creative directer at Giant Bomb. He has a long and storied history with video games and anime coverage. Thankfully, he's been able to turn his interests into the subject of his career, so that means he gets to watch plenty of anime still.

Thomas
Editor-in-Chief, Moviebreak.de

For Thomas, it all started with Dragon Ball, which has remained his love for life. He's currently the editor-in-chief of Moviebreak.de, a German website dedicated to covering movies, TV shows, and anime.

Geoff Thew (Mother's Basement)
Top YouTube Anime Critic

Geoff is the creator of one of YouTube's biggest anime channels, Mother's Basement. When he's not analyzing individual series in depth, Geoff watches literally every new anime each season for his "Ones To Watch" recommendation series, helping hundreds of thousands of otaku find new favorites and hidden gems.

TiamaT
Content Creator

TiamaT has been creating content about anime for six years with a Youtube channel of nearly 85,000 followers and a Twitch channel of almost 40,000. A passionate anime fan, he has participated in several panels in the most famous anime and comic conventions in Italy.

Viet
Moderator, Rocket Beans TV

Viet's passion for anime shines through his work, whether on Rocket Beans TV or the anime-podcast Nani? – Der Anime-Talk. Fun fact: he's also won the Nerd Quiz Championship on Rocket Beans TV multiple times.

Eric Vilas-Boas
Animation Journalist and Editor, Vulture

Eric Vilas-Boas edits Vulture's Streamliner section following editing stints at Esquire, Thrillist, Hyperallergic, and The Observer. He also co-founded the animation blog The Dot and Line and oversaw Vulture's 100 Sequences project, which won a New York Press Club Award.

James Whitbrook
Deputy Editor, io9/Gizmodo

A writer and editor at io9 for over 8 years, and a lifelong fan of anime since Sailor Moon aired on Fox Kids, James can often be found writing about Star Wars, Star Trek, and more in his day job—but only because it's hard to turn hyperventilating about Mobile Suit Gundam into a viable career.

Jan Felix Wuttig
Writer, Moviepilot.de

Jan Felix has been a great admirer of anime and manga for over 20 years. He believes that anime's fan culture is the most attainable of all utopias.


The judges will select nominees in over a dozen categories including Anime of the Year, Best Anime Song, and the Special Achievement Award honoring a person or group who has had an impact on the anime industry. You can take a look at all of the categories in our article here! Anime Awards nominees will be announced early next year and fans are encouraged to vote across all categories.

The Anime Awards live ceremony will be held on Saturday, March 4, 2023 at the Grand Prince Hotel New Takanawa, and will also be streamed across many of Crunchyroll's social media channels.